She Vows Installation
She Vows, 202" x 183.5" x 79", Woven, crocheted, drawn yarns, rope, rubber tubing, bronze elements, buckets, dirt from Satuario de Chimayo, Sedgwick, Maine, Purchase, New York
upper left corner: Red Light Rest, 2016, 89" x 36.5" x 3", Wool, diamond pull chain, acrylic rod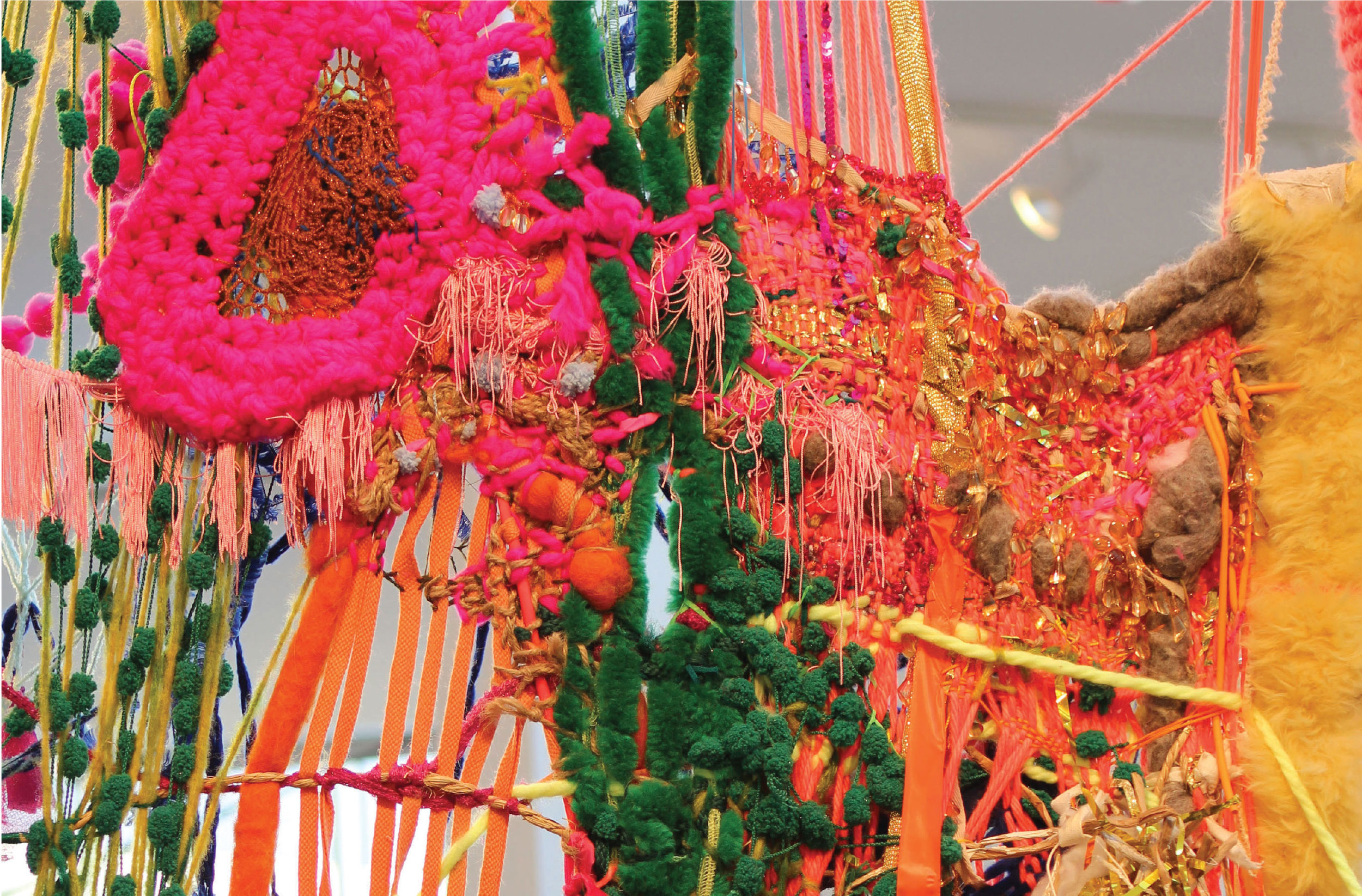 She Vows (detail)
202" x 183.5" x 79", Woven, crocheted, drawn yarns, rope, rubber tubing, bronze elements, buckets, dirt from Satuario de Chimayo, Sedgwick, Maine, Purchase, New York
She Vows (installation)
202" x 183.5" x 79", Woven, crocheted, drawn yarns, rope, rubber tubing, bronze elements, buckets, dirt from Satuario de Chimayo, Sedgwick, Maine, Purchase, New York
She Vows (installation)
202" x 183.5" x 79", Woven, crocheted, drawn yarns, rope, rubber tubing, bronze elements, buckets, dirt from Satuario de Chimayo, Sedgwick, Maine, Purchase, New York
She Vows (detail)
She Vows (detail)
Bronze fetish figures + beads + tools
She Vows (detail)
Installation view
Blue Boob, No Doubt Your Empress, Bringing It, Sea Foam with Sight.
Blue Boob
2016, 68.75" x 19" x 3", Crocheted and stitched yarn, thread, fabrics, pins
No Doubt Your Empress
2016, 68" x 24" x 18", Stitched, stuffed, woven and crochet yarn, cotton batting, fabric, string, amethyst, ceramic elements, glass, dowels, mylar, wood, paint
untitled
Around 20 feet of beads, selected and strung by Magnus Gitt Henderson. Beads sourced at the Tucson Gem and Mineral Show by Sue Cobb.
Sea Foam with Sight
2016, 77.5" x 31.25" x 20.75", Crocheted and stitched yarn, fabric, pins, upholstery tacks
None of Your Damn Business
2016, 64" x 61.5" x 23.75", Stitched, stuffed, carved and woven fabric, gold mylar, paper rush, foil tape, anti-static duster, flag tape, cotton stuffing, ceramic elements, found wood, trimmings, paint, twine, yarn, beads, ironing board, ceramic elements
Fur Step Stool
2016, 9" x 11.5" x 9.75", Mink remnants, trimmings, plastic lacing, step stool, thread, foil tape
Red Velvet Seer
2016, 59" x 15" x variable, Sculpted, stuffed, stitched bronze, plaster, wax, mylar, trimmings, table legs, fabric, clay, rhinestone, foil tape, thread