Shape Shifter (detail)
Shape Shifter
2015, 75.25" x 57" x 2.5", Woven and stitched yard, thread, mylar streamers, sequins, fringe, nails, brads, graphite, and push pin.
Golem
2015, 91" x 69" x 6", Handwoven, stitched and drawn yarns, twine, flag tape, nails
Golem (detail)
Studio view, 11.5.15
Shazam (detail)
Shazam
2015, 49" x 44" x 4", Crochet, woven and stitched yarn, flag tape, mylar streamers, pom pom, sequins, thread, trimmings, and nails.
Rough Rider (detail)
Creations
2015, 81.5" x 53" x 1.5", Woven and stitched yarn, mylar streamers, sequins, flag tape, thread, felt, pins and nails.
Preparation for Peekskill Projects
Spring Beast
2015, Mixed media on Mylar
Deer
2015, 73" x 118", oil pigments, charcoal, graphite and colored pencil on mylar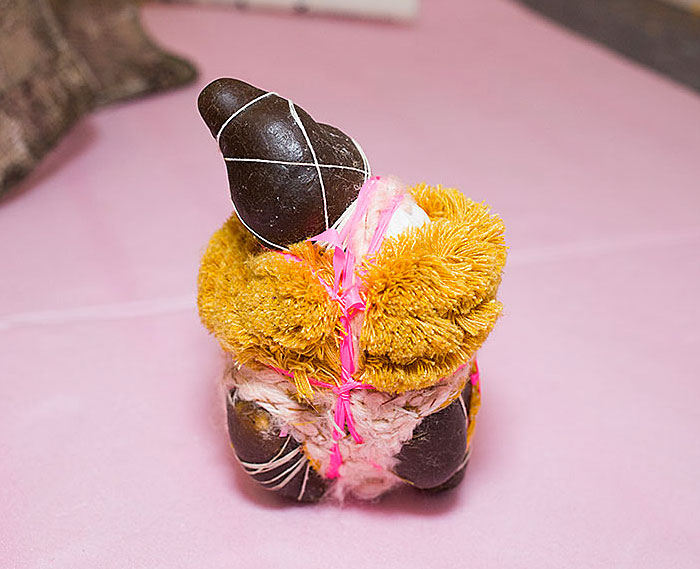 Super Gay
Bambi
2014, 80" x 36", Oil pigments, latex paint, marks-o-lot, charcoal on mylar
Kindred Beast
2014, 73" x 53" x 20", Crocheted, stitched, stuffed, carved and constructed acrylic yarn, mattress stuffing, fabric remnants, twine, styrofoam, wood and clay, Maass Gallery, Purchase College
You May Touch These
2014, Woven, crochet and stitched mattress fabric, cotton stuffing, wool yarn, thread
Venus
2014, Stitched, woven and stuffed cotton, fabric remnants, flag tape, twine, 39" x 17" x 12"
Mine
2014, Woven, stitched, stuffed fabric, raffia, flag tape, poly fil, joint compound, latex paint, wood